joshua0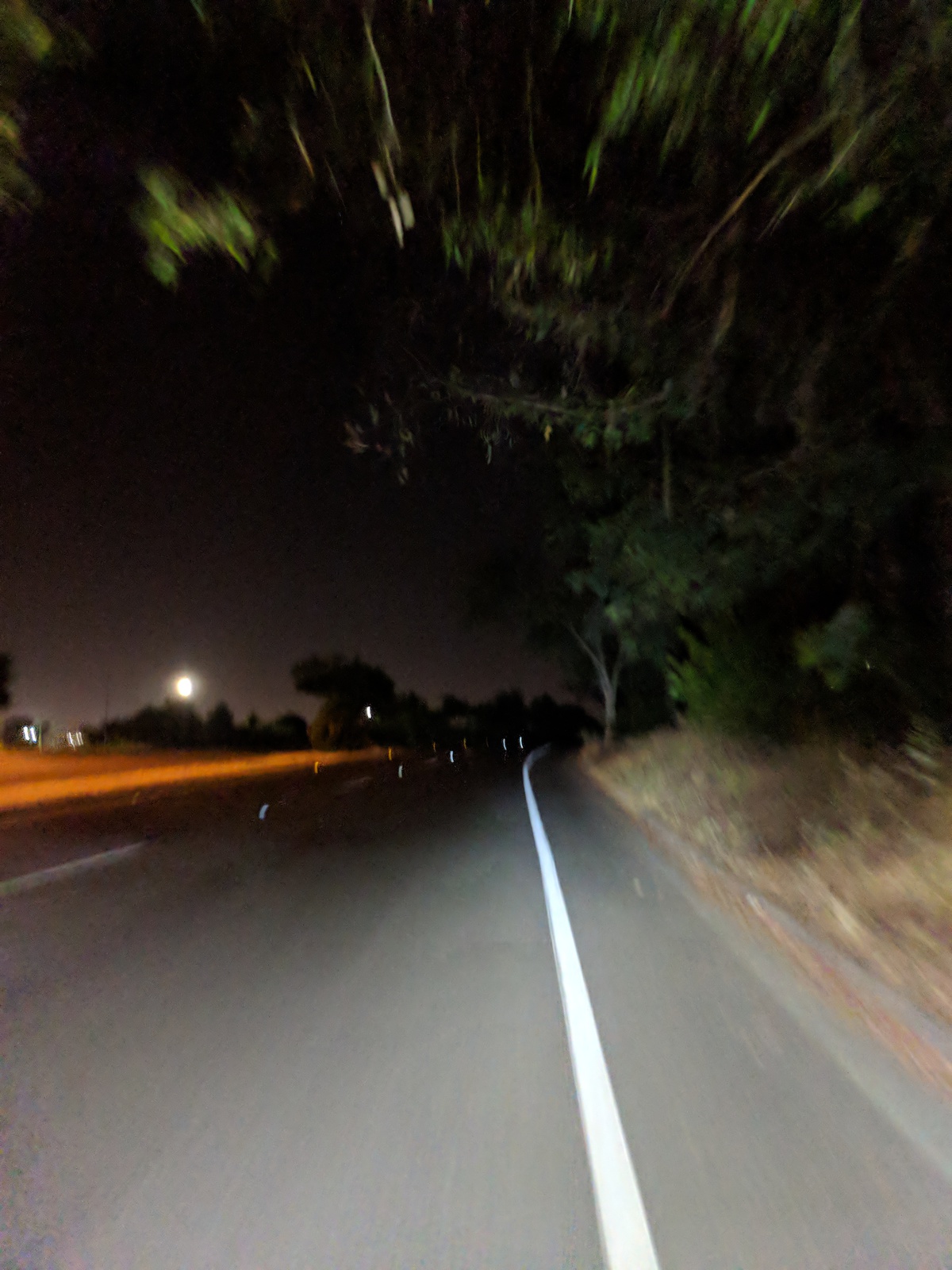 It never goes smooth. How come it never goes smooth?
I have had a lot of trip reports in the queue to write -- or, perhaps I should say, I have taken a lot of trips recently, and some of them had moments worth writing about. I have half of a trip report written about getting shut down on Mt. Shasta; after it became clear that it was a simple recounting of a day, with nothing terribly interesting to say about it in that light, I gave up on that incarnation of it. In my mind, too, was brewing a set of thoughts about a recent cycling trip to make a lap around Lake Tahoe. On my laptop is also a draft of a post about mental health -- or, really, the things that go along with the absence thereof -- that I never seemed quite satisfied with enough to post.
It seems like what I was looking to write is a synthesis of all of these. Over the past few months, I have entered a handful of experiences with expectations for how they would turn out; some of them went exactly as I'd planned, and some of them were entirely the opposite. To be honest, I'm not sure exactly what my thesis is here -- is it that expectations influence outcomes? that they don't? that expectations influence experience? Regardless, here are a collection of moments of each of these.
"The best climber is the one having the most fun." — Alex Lowe
* * *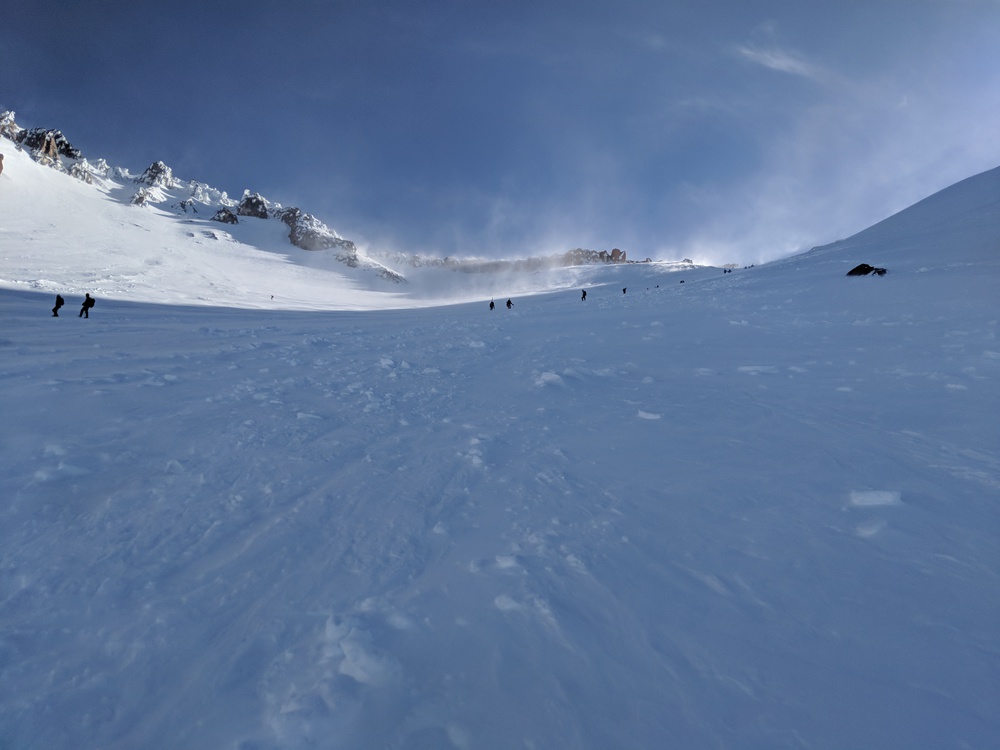 Oddly enough, I start with different version of the story that I had mentioned above, in which I had had a go at Mt. Shasta with

lizolas over Memorial Day weekend. We set out to do it in a day, via Avalanche Gulch -- we'd bivy at Bunny Flat trailhead in the car, get up at 1:30 or so, and then gun for the summit. I was pretty excited on the drive out, despite a late start: it was to be a day of storming up a slope, fresh with additional fitness from taking classes at the gym, and a chance to really push how much bonus altitude I could pick up in a day. I knew it was going to be tricky, but on the drive out, I was confident.
We bivied at the trailhead on Friday night, and slept in a little on Saturday morning, with the idea that we'd take that day to do a skills-check hike, and gain a little altitude to acclimate on the day prior to summit attempt day. I felt all kinds of slow. It seemed like a bad omen for the next day. When we woke up on Sunday morning, I had a sudden moment of clarity: what was I doing? As we lumbered through making breakfast, and finally got our boots on the trail around 2:45, I managed to shake it, but only a little bit.
I had planned for a long, easy day out, and that the suffering was going to come from the length of the day. I'm not sure where I got the idea that it was going to be easy; it sure wasn't. The early morning, before the sun came up, was straightforward, at least, and although slow, was not agonizing; as the day broke, and the snow softened, and the route steepened, the joke about not knowing what I was doing there felt like an internalized reality. As I got uncomfortable and felt like I was moving slowly, I felt like a drag; back on Thompson, I felt like I was the "long pole" -- the member of the group that was slowing everyone else down. I felt like that on Shasta, too; it was awful. I was taking long breaks, and moving at a plodding pace. When we hit the even steeper section yet, just below the Red Banks, the breaks became even more frequent, and I felt even worse about it. I felt so ruthlessly incompetent.
At some point, I found that even if I wasn't the slowest, and Liz wouldn't have been moving any faster anyway, I sure was the whiniest! It became a self-fulfilling prophecy -- I started off upset about being slow, and then I was upset about being upset. I felt like a miserable climbing partner; I sure wouldn't have wanted to trying to push my limits with whiny-me around. The mental agony transformed into an inability to keep pushing myself to move uphill, and the drop in pace spiraled back into the angst.
Eventually, we bailed. It was something of a relief to hear that nobody summitted that day; the wind was blowing really hard, and summit conditions were impassable. It didn't look like we would have gotten much higher up even if we hadn't turned around from my fatigue. Still, I didn't like the idea of blaming the conditions. I couldn't shake a feeling of personal responsibility, a feeling of having held Liz from a summit that she could have achieved otherwise, a summit that she somehow "deserved" -- and, if nothing else, that she could have had a perfectly peaceful day on the mountain, if I hadn't been there to grumble the whole way.
Oddly, despite my upset at how I performed -- and behaved -- on that day in particular, I feel like I want to make another attempt at it. I don't think that Shasta is an unachievable goal for me. I think there is probably a reason why most people camp at Lake Helen, at 10,000ft, anyway, rather than trying to do it car-to-car in a day. And next time, maybe I'll calibrate my expectations a little better.
* * *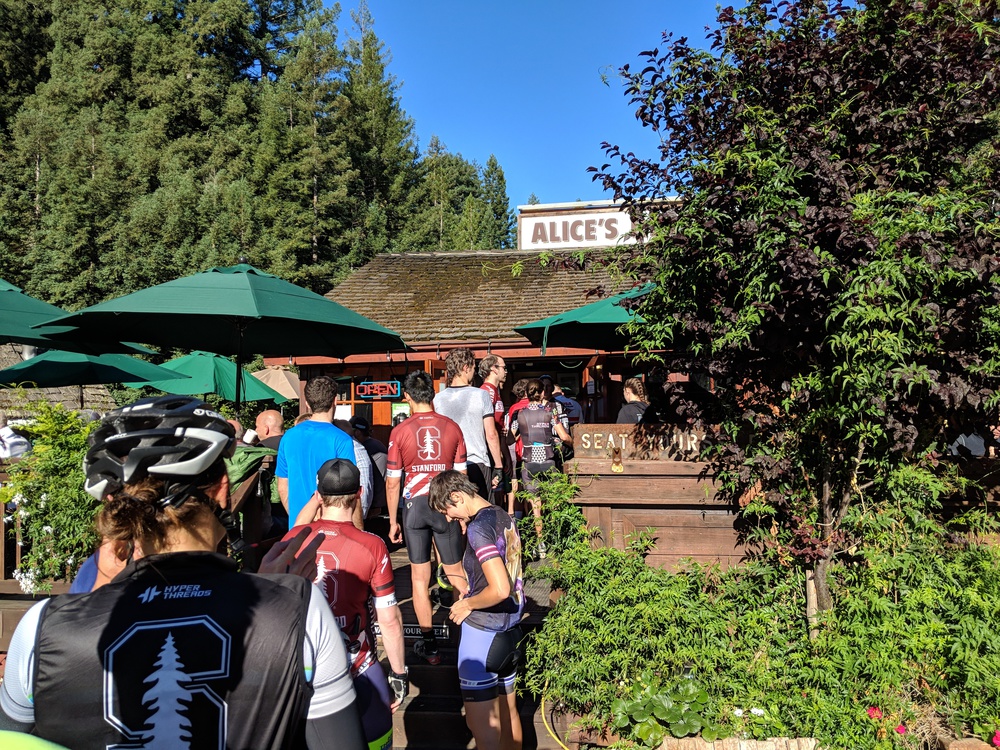 I've been on a handful of bike trips recently. One smaller ride was a morning sprint up to Alice's Restaurant, with the Stanford Cycling team. The idea is simple: you get up early on the first Wednesday of the month, get to the base of Old La Honda around 7:30am, spin the pedals and sweat until you get to the top around 8:00am, and then you have a breakfast buffet waiting for you there for $8. The concept of a ride tagging Alice's is one that I've done more times than I can list, anyway, though I admit that I'd never dragged myself out of bed at 5:45 to do it.
I'd planned to meet a friend who was with the Stanford group to do the ride; I biked there and got to the base around half an hour before they all did. Somehow, it was my plan to have a nice social ride up; for some reason, it ended up being that my pace was directly between the other groups, and so I spent most of the ride uphill on my own. I tried to speed up or slow down to sync up with other groups, and just couldn't quite seem to keep those speeds consistently, so away I went on my own.
It is not what I planned, but it was also a great ride anyway. It was a nice short spin; despite my legs feeling like wood when I left the house, I knew that pancakes were waiting for me on the other end. It felt good to get out and stretch. There was nothing special about it, I think, and perhaps that was the fun part: it was a ride where I went out, learned nothing new, and performed solidly in the middle of the pack.
(Then on my way home my front shift cable snapped. But that was ok, too, because I was already done with the 40mph-descent bit of the program.)
* * *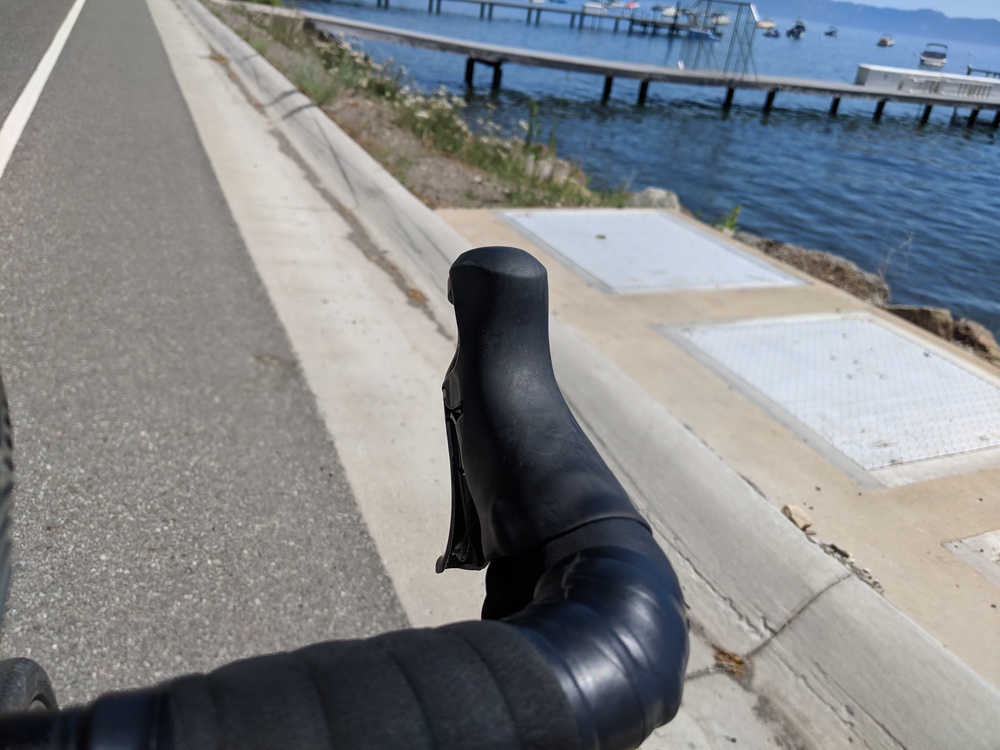 In the middle of July, between jobs, I decided that I was going to go on a solo trip up to Tahoe to do a lap of the lake on my bike. The ride is variously said to be "one of the best rides in America" and "America's Most Beautiful Bike Ride"; it's also said to be relatively easy, at only about 4,000 feet of elevation gain over 72 miles. I had planned for a while to do it as a solo trip, but kept deferring it; eventually, the evening after I did the Alice's ride, I stuffed my bike in the back of my car, drove up to a trailhead, hauled my bike out, and then stuffed myself on the folded down seats for a good night's sleep.
When I set out, I knew I had the urge to just go out and do it, but I couldn't identify why. I was pretty sure that I had to do it myself, but I couldn't figure out why that, either. It became simultaneously less and more clear to me as the evening progressed towards my drive up, too; I found myself spiraling into a not-at-all-unfamiliar pattern of anxiety and depression. I didn't know why I was doing it, but I knew that I was going to go do it to try to clear my head.
In the morning, after eating breakfast, things seemed to be looking up. I got on the road around 9:15. The climb up to Emerald Bay was gorgeous, and I was all smiles: it was hard work, as I expected, but the views were phenomenal. The descent out of Emerald Bay was even better, rocketing downhill at 45mph over perfectly manicured roads with perfectly cambered corners.
Eventually, I found myself on the way northbound alongside the lake, passing Tahoma or so, and I realized that I had no idea why I was doing it. I felt like I was slogging away turns of the crank. I had eaten a Gu packet and the rest of my breakfast, but I felt slow still, and I was miserable. The views of the lake were okay when I saw them, but for some reason, the experience sucked. Even my body was upset in unusual ways; maybe the altitude, maybe the new gloves, or maybe something different, but I was starting to get some sort of nerve impingement in my hands, and my pinky fingers were going numb. I decided to keep spinning the pedals until I got to Tahoe City, and assess there; the last mile through traffic and on side trails felt like it was just stacking more agony needlessly on top.
I stopped in Tahoe City and had some more Gu, and some Nuun. I was not feeling a whole lot better when I left, but to add insult to injury, as soon as I left, my Garmin crashed, and ate my ride. With the added bitterness that I wouldn't even get full credit on Strava (and so why do it, otherwise???), the fire burning inside my head seemed to multiply as I rode off.
Sometimes I can use negative energy in my head as fuel -- for an athletic endeavor, or for creativity. I have grown up doing that, and managed to survive college by doing that. I tried to harness the flames as I slogged on to Kings Beach: I found myself cresting over a hill shouting to myself "how bad do you want it?!", and "what you gonna do about it?!", and "like you mean it! like it matters!". It didn't work. My mind flooded with ideas of hopping on one of those TART buses with my bike, and taking it back to South Lake Tahoe where I started ... or chaining my bike to something, and taking a Lyft back, and making the drive of shame to pick up my bike ... or just leaving it there. I moved slowly over rolling hills, until I hit the halfway point -- it would be fewer miles to continue the way I was going than to turn around. Finally, I had a good reason why I was pedaling.
I had planned to stop in Incline Village for lunch, but instead ended up stopping early, in Kings Beach, at a little dogs-and-burgers establishment. This ended up being a good idea for two reasons. The first is that, to use a technical term, there is "absolutely fuck-all" along the route after one leaves Kings Beach, which includes in Incline Village. The second was the rediscovery of the absolute truth of one of the pithy phrases written down in Patanjali's Yoga Sutras: 1.36: Vishoka va oreomilkshake". An Oreo milkshake with an enormous amount of whipped cream on the top is the cure to all sorrows.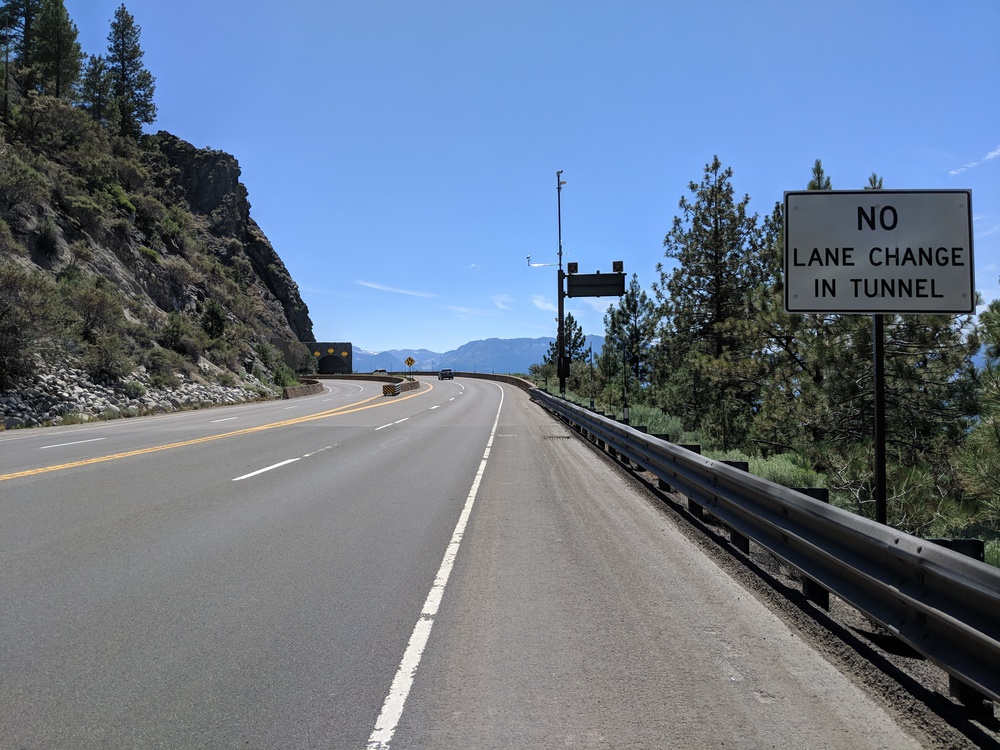 I had aforementioned Oreo milkshake, and an extraordinarily slow hot dog, and eventually got myself back on the bike and pointed myself towards Nevada. The roads got progressively worse -- that is to say, the shoulders got smaller, and the traffic increased -- but for a while, I was buoyed by my Oreo milkshake. I got caught in traffic for a while, and eventually hit, perhaps, the most physically challenging part of the day: the climb up to Spooner Summit [check this]. My Garmin said it was 100 degrees out, and it sure felt like it; I stopped multiple times to rest and hydrate. At some point, I found that the rests were truly reprieves, and maybe my favorite part! Usually being present and experiencing the challenges as they happen is quite a reward for me, but in this case, it was something of the opposite: it was when I rested that I finally managed to soak in a little bit of what I was doing.
The further I got along, the worse the traffic was. Eventually, I found myself descending down US-50. On the plus side, I was doing 40 to 45mph without pedaling, which is always exhilarating. On the minus side, the speed limit was 50, and it was a 4 lane road, and I was getting absolutely smoked by traffic doing 65 or so, and I was picking up 10mph crosswind gusts kicking me around the road. I very rarely feel scared riding my bike on roads; in this case, I was solidly terrified.
The rest of the ride was mostly unmemorable. There was another moment that stuck out in my head, of procuring from a gas station the best Gatorade I have ever tasted, and that being the beginning of what exists in my head now only as a handful of disjoint moments of slogging along flat surface streets, and having an exchange of words with a motorist who thought that the now-eight-inch shoulder should have been sufficient for me. I eventually made my way to a public beach on the California side, dropped my shoes and electronics, and charged into the lake fully clothed.
I got back in the car not feeling victorious, but not feeling defeated either. I swung into Raley's, and on what felt like an instinct, grabbed a can of coconut water to rehydrate myself, like the yuppie Millenial that I am. I started driving the four hours home, upon which I discovered that I don't actually like the taste of coconut water, having never tasted it before purchasing a can. I eventually drained it anyway. I had, truly, exhausted my supply of feelings for the day.
* * *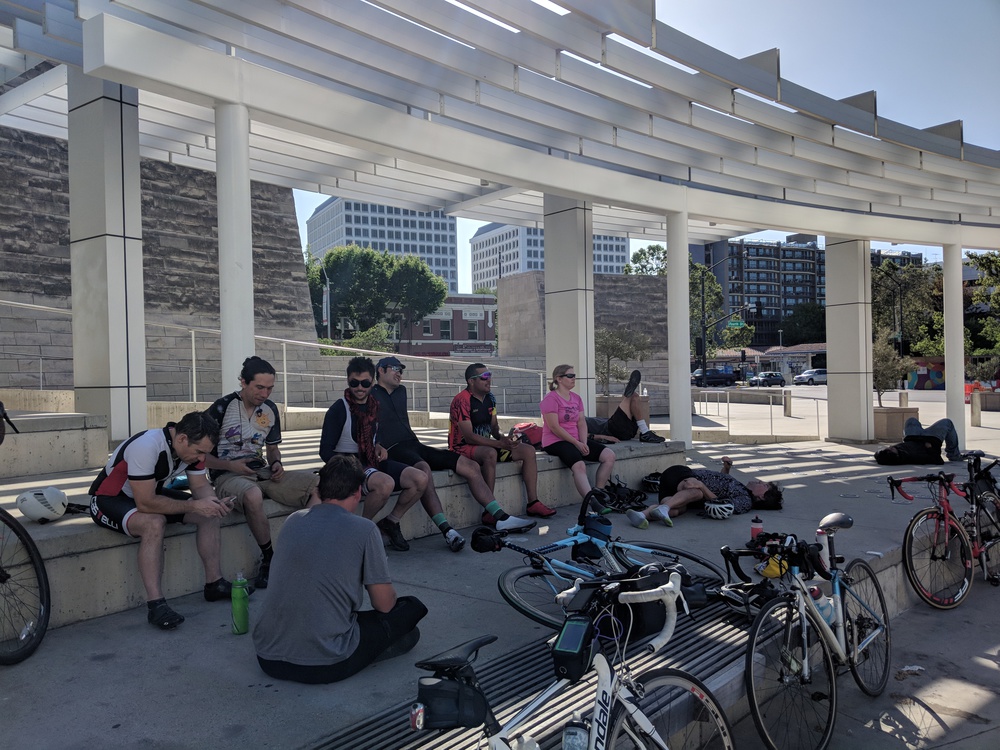 A little while before my Tahoe ride, I had gone on another long ride. Actually, I'd been on a handful of long rides, really -- after having put about 200 miles on my bike so far for the year, in May, I decided on a whim to join one of my coworkers for the San Jose Bike Party's Bike The Limits ride, which is a mostly-unsupported century (this year, they experimentally had two rest stops, staffed by volunteers). They say that the worst thing that can happen to you when you go to Vegas is that you win on your first spin; this was, somehow, the case here, where I managed to pound out 100 miles with basically no training at all, and still manage to make it back to my bed that evening.
This obviously meant that the only choice from there was to go even bigger, so I did. I deliberated over the course of the next few weeks, and at the last minute, I decided to sign up for the Sequoia Century, which is also 100 miles, but with about 10,000ft of elevation gain. Also, despite the fact that it would be a huge organized event, it seemed pretty unlikely that I would know anyone there -- so, essentially, I had signed myself up for a solo sufferfest.
When the day came, I threw my bike into my trunk, and drove to the starting line (only five miles from my house, but five miles that I knew I wasn't going to want to add again at the end of the day!). At the start, I met up with some other people who recognized that I must've been a friendly face by my NVIDIA jersey, and so I spent the first while of the ride with a group that I at least had some first names of. As per usual, I was riding on my Diverge -- not exactly a pencil-thin-tire road machine -- and, not trusting the ride's support to have what I need when I needed it, carrying a bulky-looking pannier with 2L of water, some Gu, some sunscreen, and some Nuun tabs in it. The beginning of the ride -- a climb up Page Mill -- had me easily keeping pace, to what seemed like something of a surprise to my riding companions and their slick carbon-fiber bikes. I had originally planned to try to keep my heart rate as low as I could while still making decent time, in an attempt to stay sustainable, but as we rode down through La Honda, I found myself enjoying getting sucked into one of the quicker pacelines, and even doing my time in the wind pulling the paceline along at 20-ish mph for a little while! (The people that I passed had what appeared to be a look of consternation on their faces, on occasion, at being passed by what seemed so unwieldy of a machine.)
I was quite enjoying this, actually, and was in fairly high spirits, right up until I turned north onto Highway 1, and started pedaling into the wind. I was doing my damnedest to keep up with my group, part of a 15-person-strong paceline, doing anything I could to keep putting force into the pedals; my legs started to cramp, and my heart rate started to climb attempting to maintain even a 16mph pace over easy terrain. Now was the sufferfest, but I didn't understand it yet: all I knew was that I couldn't keep the bike moving fast enough to keep up, and that the world was goign to end if I kept trying as hard as I was. I desperately tried adding some Gu and some water to my body, but neither of them seemed to relieve the bonk that I knew was coming, and I hated it. A moment later, I was dropped from the paceline, and for a few minutes, it was just me, by myself, riding into the wind, on 1, with a pack slowly receding in front of me. I realized what had happened, and I had to laugh. This, right here, was the solo sufferfest that I signed up for.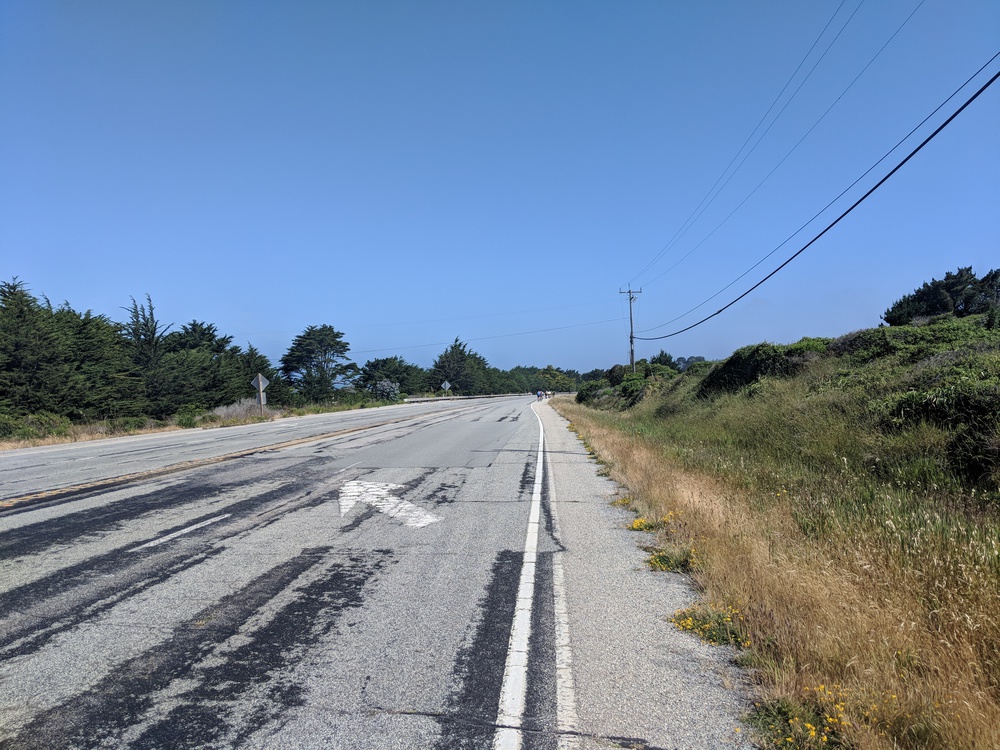 No longer having to catch up with anyone, my pace dropped dramatically, and into the headwind I crawled; even on the flats, I was barely sustaining 16 or 17mph. I hauled myself slowly to the rest stop, crawling up and over the last little 200ft bump that guarded the Gatorade and snacks that I knew were on the other side. I hung out there for a while, but oddly enough, I never considered bailing out; after all, I was already at the halfway point, and I was on the other side of the mountains, so there was no particularly easy way back home. At some point, another familiar NVIDIAn face rolled in -- Bill Dally, chief scientist. I joined up with him and his riding partner, Matt, and we set a comfortable pace for a while, trading on the climbs and descents; I'd chug my way past Bill on the way up, and he would come rocketing past me on the way down, cornering at speeds that scared the daylights out of me.
The intervening section is blurry in my mind, perhaps because it was comfortable. Even the climb up Tunitas Creek Rd., despite the thigh-burning hour it took me, has only a moment or two standing out in my mind; I guess sitting on the machine and sweating my way up a hill is, at least, something that I should expect to suck, and it did. The descent was relaxing, modulo being stuck in traffic, and before I knew it, I was back in Woodside. Some of my familiar stomping grounds came into sight; Whiskey Hill Rd., joining Sand Hill Rd., like I had passed by on rides before. It was a comfort.
We hit the final rest stop, and spent a good long while there. On our way out, we heard the news that we were too late by a few minutes, and that they had closed the finish to the 100-mile part of the course; we all looked at each other, glanced at the water bottles on our bikes, filled up, and took off. Sure enough, at the turnoff for Alpine, there was someone holding a sign saying "100 mile closed!", which we promptly ignored made the turn into. There was one more big climb to go, and it was the 16%-grade wall on Joaquin. My heart rate soared, and my cadence crashed, as I inched my way up at 3.6mph. After this, it was truly all over.
It was a quick descent back to Alpine northbound, and moments later, I was on Arastradero. If Woodside was the a vision of home, Arastradero was the real thing. I must have ridden that segment of road a hundred times, at least. Bill and Matt were to part ways with me and head to their respective homes as we hit Page Mill, and the end of the ride was truly in sight. For the last five miles -- that last little bump over Altamont -- I began punching hard, aiming to have left nothing on the table at the end.
And all of the sudden, all the time that I was just churning out miles without feeling into it caught up with me. Music began flooding my head, and the feelings came and overwhelmed me. VNV Nation - Legion, first ("... and what will happen? will I dream?"); and even darker, with memories of a year of crushing depression in undergrad, Edge of Dawn - Beauty Lies Within. I involuntarily shook when I realized that I was hearing it, and it was in my head, and that it suddenly had feeling all over again. I spun the pedals, and crested over the last roller of Altamont before hitting Moody.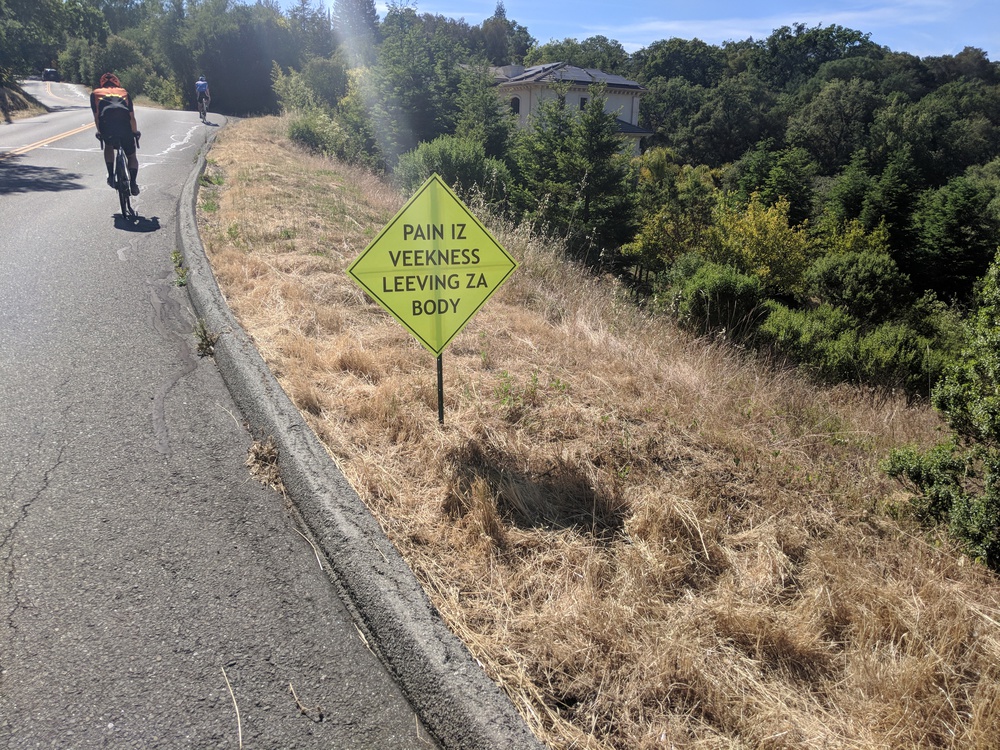 I gave myself up to the final track coursing through my head as I crossed the finish line; back to VNV, this time Saviour (Vox). My Garmin said 100mi, 10325ft ascent, in about 8 hours of moving time. I had done it. to gods as lost! gods as blind! gods of suffering and pain!
A helpful volunteer handed me a carton of chocolate milk as they offered to valet my bike; I thought the odds of keeping it in my stomach were around 0%, so I thanked them, but rejected it. I sat around for half an hour or so at the finish line, halfheartedly hoping that my GI system would reconstitute itself enough to get to use my ice cream ticket; I managed only to get a little bit of chicken and some bread down into my stomach, and then got in the car and drove home.
It still wasn't clear to me why I felt like I needed to do this ride, but I clearly did. I got in the car, cued up Saviour, and turned the volume up. I wanted more. There was no more this time, either, but this time, it was okay. I had gotten what I expected, and maybe even a little bit beyond that.
* * *
Like I said at the beginning, I don't know that there's an obvious theme to these, or even an obvious lesson. I spent a lot of the last month in my time between jobs "looking for something" outside -- maybe expecting a magical moment, where if I just got out and rode hard enough, or climbed hard enough, or hiked enough miles, then something would happen. I had a lot of expectations, and when the realities didn't match up, it felt like an even bigger surprise. Maybe the best were when I didn't know what to expect -- and those cases when, as I've taken to saying, "I'm not sure what I expected, but I sure got it!".
---
Oh, by the way: if you don't have a Dreamwidth account, but you want to get notified so you can read more things like this when I write them, I also have an e-mail list. I promise I'll only send mail for things that I write that go here on this blog. So, you know, if that's your thing, there you go.